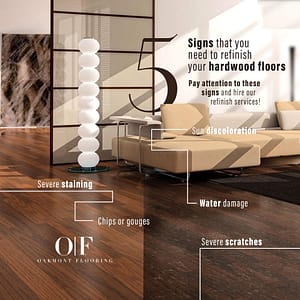 Is it time to give your hardwood floors a little love? Your home's beautiful wood floors can benefit from some attention to bring back their natural shine. In this post, we'll discuss the five key signs that indicate it's time to refinish your hardwood floors. Don't worry; it's not too late to restore their stunning beauty.
Water Damage:
One of the first signs that your hardwood floors might need refinishing is water damage. Unsightly stains or warping caused by spills or leaks can mar the appearance of your floors. Water damage not only affects the look of your floors but can also lead to structural issues if left unaddressed.
Severe Staining:
Stubborn, deep stains that just won't budge are another indicator that your floors require refinishing. Everyday spills, stains, and accidents can accumulate over time, making your floors look aged and worn. Refinishing can help eliminate these unsightly blemishes.
Chips or Gouges:
Noticeable damage from heavy impact, such as dropping heavy objects, can result in chips or gouges in your hardwood floors. These imperfections not only diminish the aesthetics but can also be a safety hazard. Refinishing your floors can repair these damages and enhance their durability.
Severe Scratches:
Deep and widespread scratches from everyday use can make your hardwood floors look tired and worn. Whether it's caused by pets, furniture movement, or other factors, these scratches can be addressed through refinishing, restoring the smooth and lustrous finish.
Sun Discoloration:
Prolonged exposure to sunlight can lead to fading and discoloration of your hardwood floors. This is especially common in rooms with large windows. Refinishing not only restores the color but also adds a protective layer to shield your floors from further sun damage.
If you've noticed any of these signs in your hardwood floors, it's time to bring back that stunning shine! Refinishing your hardwood floors can revitalize your home's interior and provide a fresh, attractive appearance. Don't delay—give your hardwood floors the love and care they deserve.
CONTACT US
Get Started
Ready to restore the natural beauty of your hardwood floors? Contact us today to schedule a consultation and bring back that stunning shine to your home. Explore our expert hardwood floor refinishing services and transform your living space. Your floors will thank you!